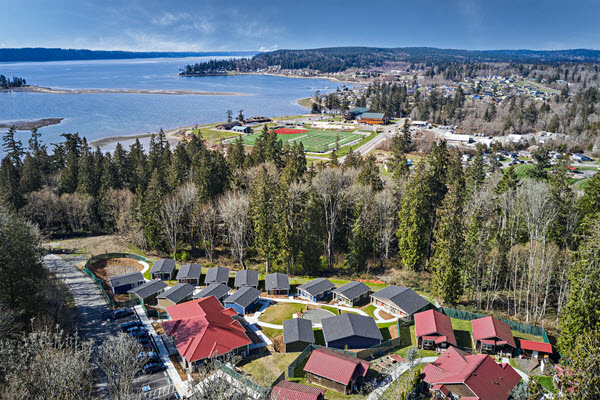 Village of Hope
ʔalʔaltəd ʔə ti sxǎƛ̕tub
Introduction and Mission
Tulalip Tribes Village of Hope Tiny Homes Project is a permanent supportive housing development for homeless adults in Tulalip Washington at 2819 Mission Hill Road Tulalip, WA 98271. The facilities will consists of a central building with showers, bathrooms, laundry facilities, a kitchen, social space, computer learning and training room, along with office spaces for staff. There will be 3 one and 14 two bedroom cottages with kitchenettes and full baths.
Village of Hope was created by the vision of Tulalip Board of Directors and General Council to create a safe supportive housing to address homelessness and recovery solutions for our most vulnerable members.
The Mission of Village of Hope is to provide housing opportunities for people experiencing homelessness. We strive to make communities that promote access to the care and services its residents need to help them achieve their goals.
Services
To assist clients by providing Case Management, supportive services and resources and develop partnership with tribal programs to better assist the clients in their effort to attain long term housing and create a personalized plan toward self Sufficiency.
How Long Can Someone Stay at the Village of Hope?
It depends on the client. Clients work on their goals with their Case Manager. Plans and goals are updated every six months and evaluated by the Manager and Case Manager.
Apply